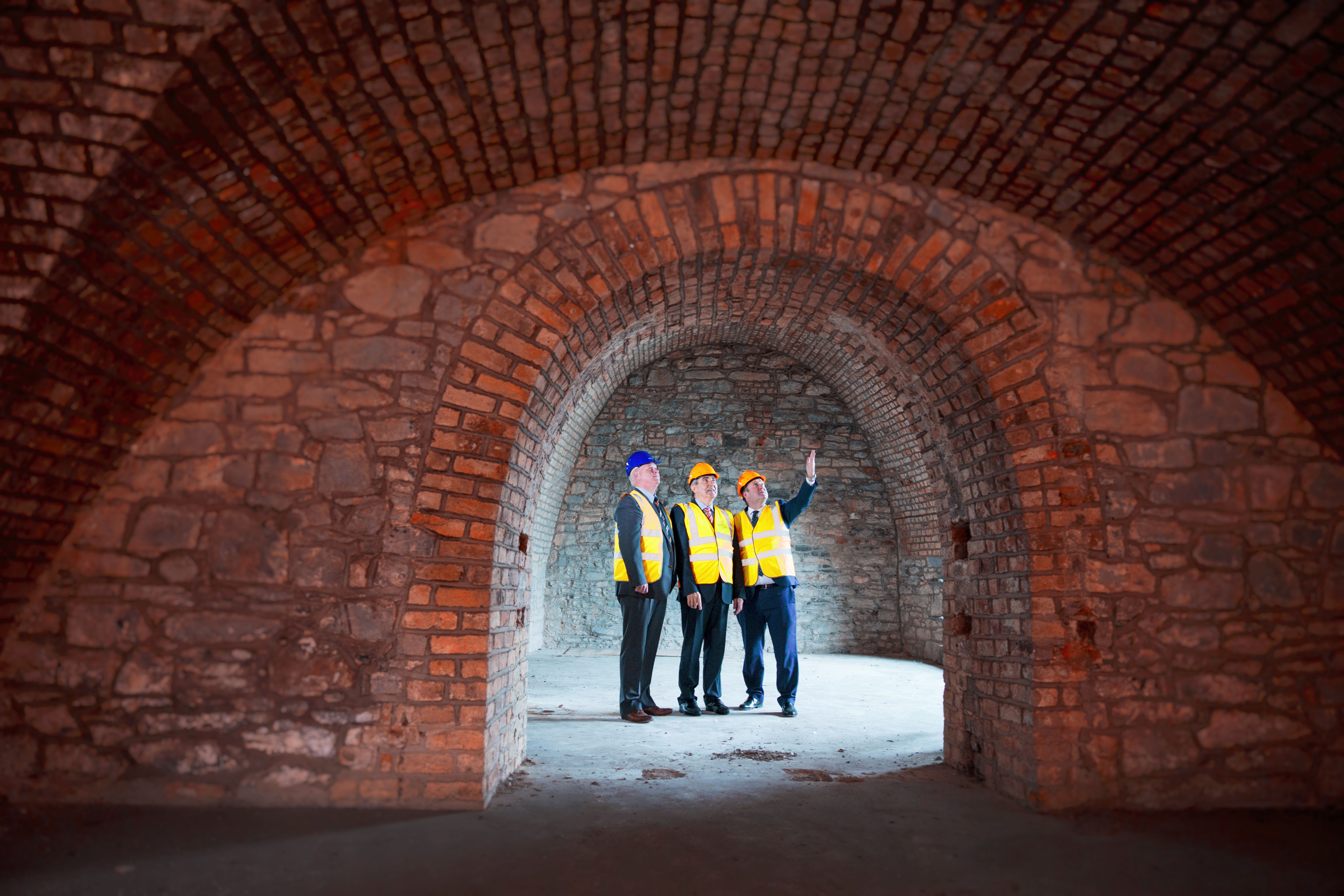 16 Oct

Gardens building a wonderful 'Open House'

'Architecture is Story' was the engaging strapline for Open House Limerick 2017 and a special chapter unfolded at our Gardens International Office for those who took time to explore the city's many wonderfully designed buildings and monuments over this special weekend.

With visitor numbers having to be restricted due to it being an active construction site, it was no surprise that the three daily tours were oversubscribed for this gem of Limerick architecture on Henry Street.

Built in 1808, at the height of the Georgian era, the stunning building formed part of merchant and banker William Roche's rooftop 'Hanging Gardens'.

Underneath the Gardens, which were unique in an Irish or UK context at the time, were bonded warehouses with stunning vaulted arches that are still standing today and will be impeccably preserved as part of the transformation of the old building into an international standard, 100,000 sq ft Leed Gold certified office block capable of accommodating 800 employees.

Limerick Twenty Thirty has painstakingly planned to merge the old with the new at this captivating site.  When completed in Q3 of next year, the site will embark on another proud chapter, retaining all the old character yet, in doing that, still facing very much into the future.

Visitors to the site for Open House Limerick 2017 were given an overview of Limerick Twenty Thirty's wider plans by Project Manager Aidan Malone, while site architect Louise Cotter took the tour groups through the remarkable history of the old building and plans for its future.
Said Louise Cotter: "This stunning building is one of the most fascinating fragments of Limerick's history.  It was a bonded warehouse for storing goods like tobacco, whiskey, wine, etc.  Its owner William Roche, who had set up a bank on O'Connell Street, stored the goods for people until duty was paid and he earned quote a lot of revenue from it.
"He then built beautiful hanging gardens on top of the structure. They were unique what were then the 'British Isles' and there are stories about pineapples, banana trees, green houses with mangoes and all sorts of exotic fruits.  It really must have been an incredible sight."
She explained that much of the famous gardens were destroyed in the next century and replaced by a courtyard complex of buildings, which were in use for the General Post Office (GPO).
Some of the complex was partially demolished for an office development in the early 2000s which was part developed but languished uncompleted for seven years. That was until Limerick City and County Council purchased the site and established Limerick Twenty Thirty to develop it and other key strategic properties in Limerick to bring the ongoing economic resurgence here to a new level.
As for the merging of old and new at the stunning Henry Street property, the lead architect said: "What we are developing here is quite an interesting mosaic of old and knew and that's what's fascinating about the project for us as architects. We have a combination of old historic structures which need to be restored appropriately and new uses found for them alongside the frame of a recent structure that is part built.
"By the time it is finished, we will have a state of the art office building.  Limerick City and County Council also purchased the corner site next store, No. 19, on Henry Street, so that will be a brand new building.  All of these discreet elements will be linked by a two-storey foyer clad in bright white marble.  One of the keys to a successful workplace is daylight and having sustainable structures that make the best use of energy. We will make good use of the roof gardens and will have a new garden on the roof which will make for a very interesting workplace. As well as working with the sustainable principals of the project, we will also be providing good amenities for the workers who will be coming into this building day by day.
"It's quite unique.  When you think of the mix of structures from different ages.  It's very interesting for us as it's all about repairing cities, making new spaces in the heart of cities and not about demolishing everything and starting from scratch or moving to new, green-field sites.  I think that is what is so fascinating about it as its delving into the history of Limerick city and recovering something of what was happening in that time. The Georgian era was Limerick's heyday, if you like, and we are discovering the beauty of that time. I'm hoping they people who come to work here will feel a sense of belonging to the city and its history, no matter where they come from.  They will have a snapshot of what the place used to be and what it can become."
The letting agent for this historic property is John Buckley, Cushman & Wakefield. john.buckley@cushwake.ie