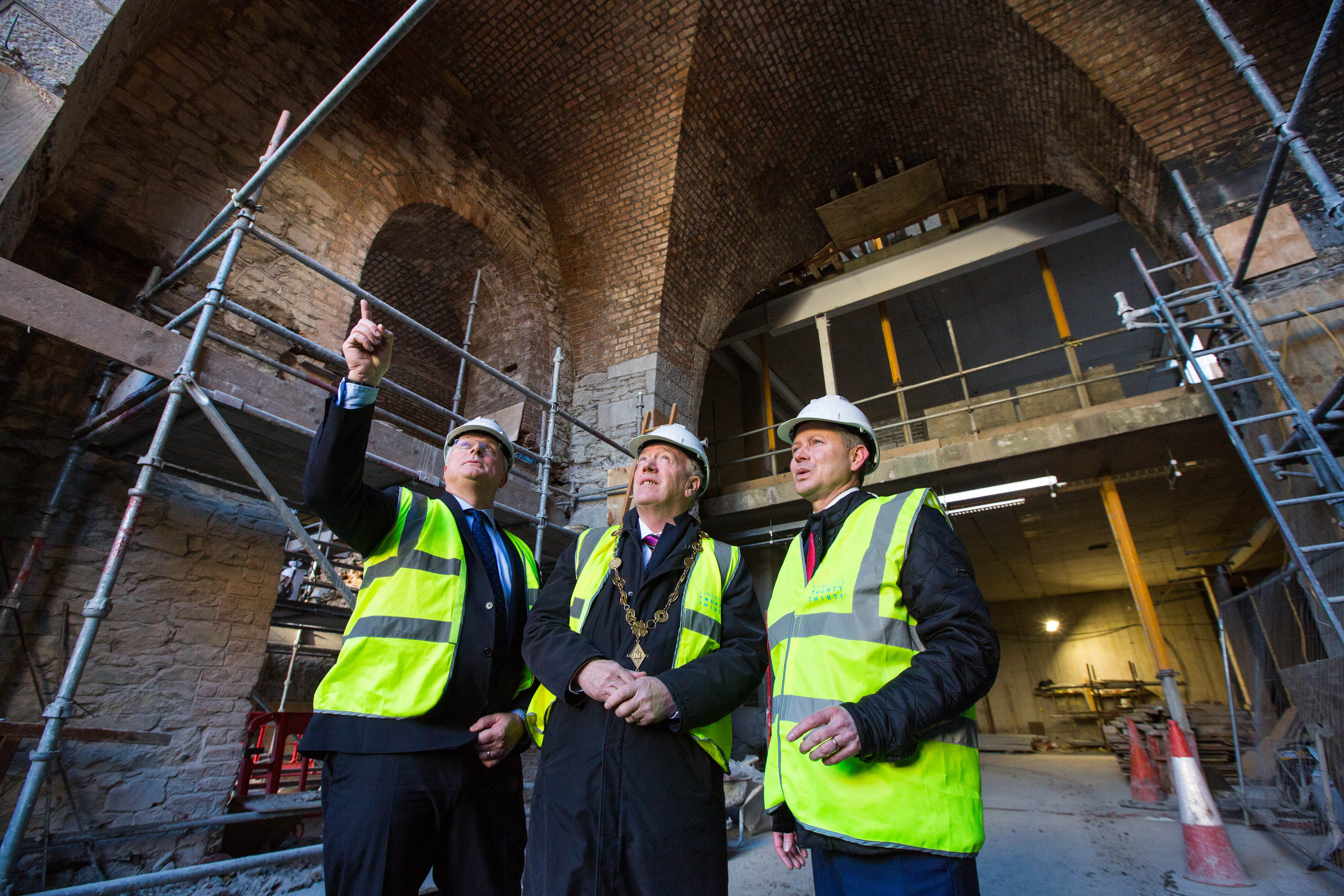 29 May

Gardens International project on track to be fully let

Limerick becoming more attractive for inward investment as capital rents rise

Limerick's state-of-the-art new Gardens International office space development will be fully let in 2019, the company behind the project confidently predicted today.

Limerick Twenty Thirty, which is developing the site, hosted a briefing with stakeholders on the project at the Savoy Hotel, Limerick this morning at which it launched a website – http://gardenslimerick.com/– and brochure for the 80,000 sq ft, €18m project.

Also speaking at the event, Aidan Gavin, Managing Director of Custman Wakefield, who are letting agents for the site, said that Limerick and other regional cities are becoming a very attractive option for international companies as Dublin rates rise.

Work on Gardens International, which includes significant restoration of what remains of the acclaimed Hanging Gardens and former GPO sites on Henry Street, commenced last summer and is set to be complete to pre fit-out levels in June. First tenants are due to move into the Leed Gold site in Q4 this year.
Gardens International is the first build in the Limerick Twenty Thirty programme, which will see over €500m worth of investment in state-of-the-art office, retail, residential, cultural, education and enterprise space developed in Limerick.  Limerick Twenty Thirty is a special purpose vehicle created by Limerick City and County Council to develop key sites acquired by the local authority into employment and residential hubs.  The wider Limerick Twenty Thirty programme, which also includes the 550,000 sq ft Opera Site and ten acre Cleeves Riverside Campus projects in the city, will be capable of accommodating over 5,000 jobs.
Said Mayor of the City and County of Limerick Cllr Stephen Keary: "This project is the first in the Limerick Twenty Thirty programme and is setting an incredibly high standard, with the finished city centre project set to be right up there with best international office space developments.  It is symbolic of a dynamic and vibrant emerging Limerick, a city that is both high on ambition and delivery."
Said Limerick Twenty Thirty CEO David Conway: "We are getting to a very exciting period for our wider Limerick Twenty Thirty project, with the completion of this project only a few months away and then the first batch of employees moving into the development in Q4 2018.  Considering the company was launched in September, 2016, this is rapid progress.
"We've had a hugely positive response from the market so far, with a large percentage of the development already taken. Ultimately it's what the market wants; LEED Gold office space in the heart of a city with strong graduate population, competitive cost of living and just 20 minutes from an international airport.  We've an excellent mix here and are very confident about the prospects."
Key note speaker at the event, Aidan Gavin, MD of Cushman & Wakefield, said that Limerick was now becoming a very viable option for companies looking for new locations.  "When we compete with FDI internationally we compete across Europe for those itineraries when they come.  And when you look at the international markets, you see London (€821 per square metre) as the hottest market across Europe. Dublin is at €619 per square metre and, at that, is no longer as competitive as it was historically but we don't have any concerns with that as it is where Dublin should be in the market. But I think what it is doing is making the likes of Limerick very competitive alternative for international companies coming here."
Mr Gavin said that one of the key strengths of the Gardens International building is the LEED Gold standard it is built to.  "Every large company now has a corporate social responsibility agenda, a green agenda.  They want to deliver sustainability. There is also a carbon tax coming on property in the next couple of years so office occupiers are going to be very influenced by the quality and the carbon footprint the building produces. Gardens International is at the highest possible standard in that regard."
The Henry Street site was part constructed during the boom but has remained a shell development since work ceased there several years ago.  The five-floor development will be suitable for a range of uses and will be Limerick's first city centre LEED Gold certified office scheme.
Developed in 1808 by the Roches family, the old limestone faced building with stunning red-bricked internal barrel vaults was a revolutionary project for its day, having been designed with a sophisticated heating and irrigation system to support roof-top hanging/vertical gardens with vegetation such as exotic fruits like oranges, grapes and pineapples.
The new design comes complete with a structural glazed facade to provide a high level of environmental control within the office space, minimizing solar gain and reducing imposed air-handling energy requirements. It also includes automated fully glazed entrance doors, natural stone flooring, a turnstile security system, car parking spaces, cycle bays and other services.