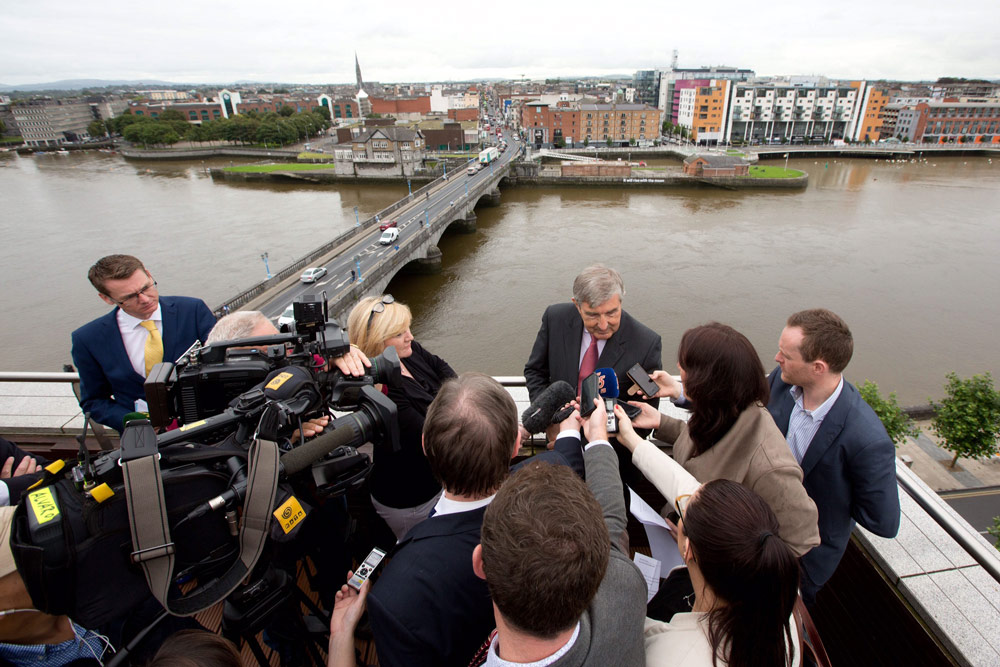 19 Jun

Limerick recovery to accelerate with launch of Limerick Twenty Thirty
Leading businessman Denis Brosnan to chair local authority created company which will redevelop over 1.4 million sq ft of investment infrastructure over five years Monday September 19 th, 2016:
The biggest single Irish commercial property development programme undertaken outside the capital to be unveiled today with the launch of a special purpose vehicle to accelerate Limerick's emergence as one of Europe's most attractive investment locations.
Limerick Twenty Thirty Strategic Development DAC (Designated Activity Company) is the first entity of its kind created by a local authority to deliver a city and county wide programme of investment. It will be tasked, in the first instance, with delivering over €500m worth of transformational investment infrastructure across four strategic sites in Limerick City, with the capacity to create in excess of 5,000 jobs over the next five years.
The Limerick Twenty Thirty company – with one of Ireland's most respected and successful business leaders, Denis Brosnan, as Executive Chairman – will prioritise the redevelopment of 1.4 million sq ft of prime real estate across the four sites into state-of- the-art office, retail, residential, education and enterprise space.
The investment programme will put the required infrastructure in place to accelerate inward investment to the city and county, both from the indigenous and FDI sectors.
It will add further momentum to Limerick's remarkable job creation record since the 2013 the launch of 'Limerick 2030: An Economic and Spatial Plan for Limerick' – a once in a generation plan to guide the economic, social and physical renaissance of Limerick city centre, the wider county and Mid-West region. Delivery on this is already ahead of targets, with 7,800 jobs created in Limerick and over €1.3 billion invested in the interim. Close to 5,400 of these posts are full-time posts across various sectors including financial services, retail, med-tech, IT, while the remainder are construction jobs.
The four key sites prioritised for Limerick Twenty Thirty DAC are:
The 112,000 sq ft Gardens International Office on Henry Street
The 550,000sq ft Opera Site at Rutland Street
The Cleeves Riverside Campus on the banks of the River Shannon at Fernhill comprising 8 acres and 100,000 sq ft of existing space
Media Coverage from the Limerick Twenty Thirty launch
http://www.rte.ie/news/business/2016/0919/817582-limerick-development-project/
http://www.irishtimes.com/business/commercial-property/limerick-unveils-500m-development-programme-1.2796772
http://www.independent.ie/irish-news/news/massive-limerick-investment-could-create-5000-jobs-in-five-years-35060685.html
http://www.breakingnews.ie/ireland/500m-development-project-announced-for-limerick-755398.html
http://www.limerickleader.ie/news/home/216363/new-company-set-to-develop1-4million-square-feet-of-real-estate-inlimerick.html
https://www.siliconrepublic.com/business/limerick-twenty-thirty-investment
http://www.newstalk.com/500m-to-be-invested-in-Limerick-development-programme