14 Mar

Limerick Twenty Thirty and SISK announce commencement of One Opera Square construction

Posted at 14:01h

in

Opera
Limerick Twenty Thirty and SISK announce commencement of construction of the Opera Square site-wide basement and One Opera Square.
Top construction standards in place to ensure world-class project is delivered and with minimum disruption during 2year basement and One Opera Square build programme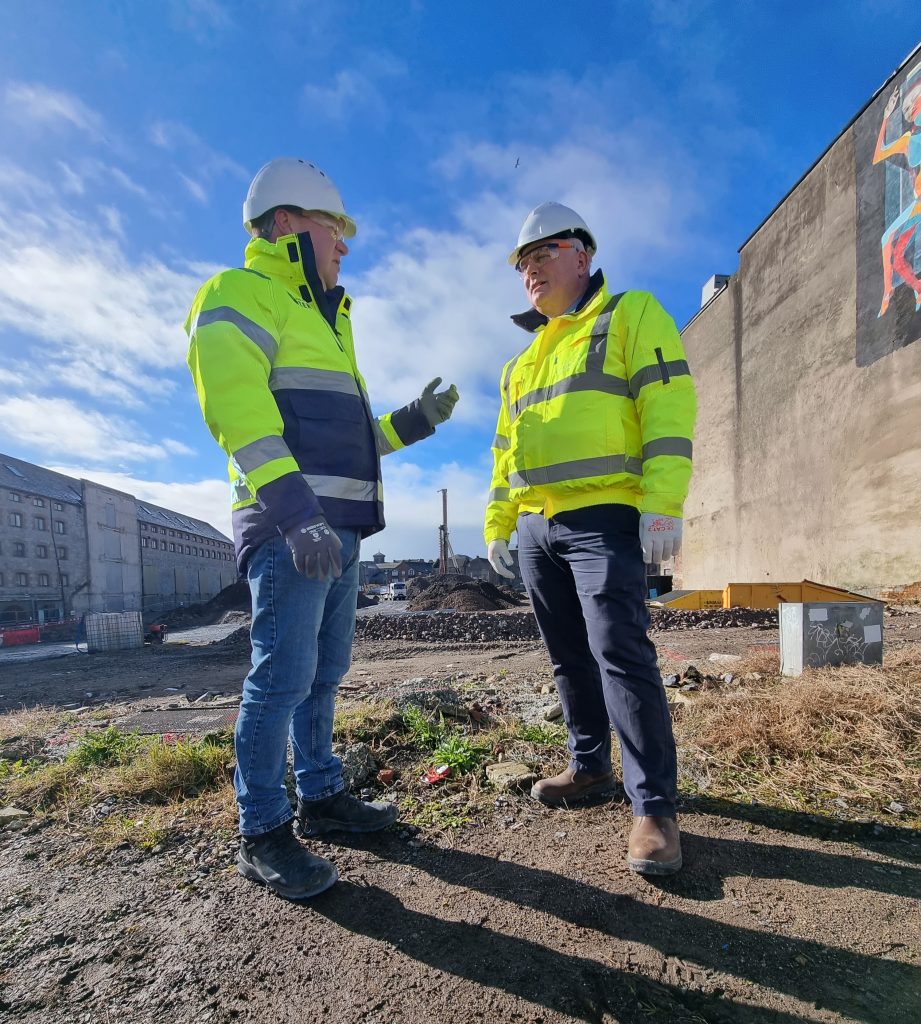 Monday, March 13, 2023: Construction on the biggest single commercial development project ever in Limerick and largest outside the capital is about to get underway, with commencement of the construction of the basement perimeter wall and substructure for the 450,000sq ft development in the coming weeks.
Less than one month after Limerick Twenty Thirty announced the signing of contracts for both the basement works and the development of one of the landmark builds on the site, One Opera Square, contractor John Sisk & Son will roll onto the site to commence works that will underpin the entire development.
A team of 20 construction workers and two piling rigs are gearing up for the initial basement piling programme, with employment on site to increase to a peak of around 200 by year end as construction advances.
After the completion of the two-year site demolition and enabling works – the biggest such programme ever undertaken in Limerick – this first phase of construction will be followed by further contracts, for the new City Library, the 14-storey OPW Building and the public realm which will commence in the first half of 2024.
The basement and One Opera Square contract, which will take two years to complete, is broken into two distinct stages. The first is the development of the four-acre basement itself, commencing with the pile driving, and the second is the construction of the One Opera Square building, which will be built to the very highest sustainability standards, with 'Leadership in Energy and Environmental Design (LEED) Platinum' and 'nZEB' accreditation.
The basement will be the floorplate for a dynamic campus development, including:
A 14-storey landmark building at Bank Place
The 6storey One Opera Square building providing 10,000 sqm of office space, plus 960 sqm retail and 430 sqm restaurant/café use at ground level
A 5storey building on the corner of Patrick St. and Ellen St. comprising a hotel, as well as retail at ground and basement levels
16 restored and redeveloped Georgian buildings
A new state-of-the-art city library
The refurbished, adapted and re-used Granary Building on Michael Street
Limerick Twenty Thirty CEO David Conway said that the team is focused on ensuring during the construction phase that local community and businesses benefit. The Considerate Contractor Scheme, which is a construction code of construction practice aimed at enhancing the impact of the construction industry and leaving a positive legacy, is being adopted in the works programme, while contractor Sisk has also appointed a Liaison Officer responsible for ensuring the public are kept informed on upcoming works and who will act as the point of contact with the public on any issues that may arise.
Said Mr Conway: "We are not alone delivering a transformational project for the city and region but one that will be built to the very highest international standards. It will be in keeping with standards in place in the world's leading business hubs. We want to attract the world's best to Limerick, so we are delivering a best-in-class commercial hub.
"We are also really focused on ensuring that the project will be delivered with best building practices so that the impact on the city and neighbours will be minimized. Yes, there will be some level of impact but the code of practice that our contractors have happily signed up to means that this will be as little as possible given the scale of the development."
Measures will include monitoring of construction activity and its impact on the environment, with noise, vibration and dust monitors set up around the perimeter of the site to ensure compliance. A Waste Management Strategy is also being implemented to minimise waste to landfill.
Said LTT Senior Project Programme Manager Enda Power: "LTT is delighted to continue the delivery of Opera Square with John Sisk & Son, given the success of the demolition and enabling works we recently completed together at the end of last year. Those works took two years to complete and involved the demolition of old buildings, reuse of materials and importantly and the stabilisation of 16 of the original Georgian heritage buildings on the site. We were very impressed Sisk's approach to the works, and they very much aligned with Limerick Twenty Thirty's vision for delivery. We were also impressed with how well Sisk ensured minimum impact on the neighbouring businesses and residents. A lot of time and effort was put into ensuring that, collectively, we went beyond the usual measures. We look forward to that standard being maintained as we embark on and continue this exciting construction programme."
Said John Sisk & Son, Managing Director, Regional Building, Marcus Carne: "John Sisk & Son will work with local stakeholders in Limerick city centre to ensure that disruption is kept to a minimum during the critical phase of piling works at Opera Square. Through the Considerate Constructors Scheme we will strive to create a real lasting legacy in Limerick city centre."
On completion, the world-class mixed-use Campus will boost Limerick's status as a leader in innovation and sustainability and at a level that will attract major inward investment nationally and internationally. The 3,000 employees from the commercial accommodation, combined with the expected 500,000 visitors to the State-of-the-Art City Library, pedestrianised public square and the surrounding restaurants, bars and retail, will ensure the wider Opera Square project will deliver an active day and night-time hub for the city. This, in turn, will provide for significant economic and social benefits to the region and local communities and businesses.
Last month also saw, Limerick Twenty Thirty (LTT) and the Ireland Strategic Investment Fund (ISIF), part of the National Treasury Management Agency (NTMA), announce the creation of a unique joint venture partnership to finance the development of the One Opera Square project in Limerick city Centre. The LTT & ISIF joint venture of €80m is the largest direct commitment by ISIF to date under its €500m investment programme for five regional cities – Cork, Galway, Kilkenny, Limerick and Waterford – announced last summer.
About Limerick Twenty Thirty
Limerick Twenty Thirty is a dynamic property development company established as a special purpose vehicle of Limerick City and County Council to plan and develop key strategic sites in Limerick City and County. These sites will act as anchors for enterprise and investment development across Limerick and the Mid-West Region.
About Opera Square
The 3.7acre Opera Square project will be a landmark commercial development in a regional and national context and one that will reflect Limerick's status as a leading city in sustainability and innovation. The 1.62 hectare project is funded, thanks in the main through lending from the European Investment Bank, the Council of Europe Development Bank and now ISIF. A transformational project for Limerick, the fully developed site will be capable of employing up to 3,000 people across 450,000 sq ft campus accommodation. Sustainability will be at the heart of Opera Square's design and build, with the project developed to international best practice 'Leadership in Energy and Environmental Design (LEED) Platinum' and 'nZEB' standards. A day-time employment hub, it will transform into a bustling night-time destination complete with restaurants, bars and open entertainment spaces. The design will also be entirely complementary to and protect existing important Georgian architecture. The project will deliver significant employment opportunities and act as a catalyst for other major city centre investment.
About John Sisk & Son
John Sisk & Son is an innovative, international, construction and engineering business with a long-term vision and over 160 years in operation. Sisk employs approx. 2,000 people and is Ireland's leading provider of construction services with extensive operations across Ireland, the United Kingdom and mainland Europe with the track record, scale and capacity to successfully undertake large, complex multidisciplinary programmes. Sisk is recognised by global clients as a world leader in safe delivery.
Sisk delivers projects and programmes in key sectors such as Data and Technology, Pharmaceutical and Life Sciences, Infrastructure, Transportation, Healthcare, Commercial, Residential, Retail, Industrial, Leisure, Education and Energy. Sisk offers a life-cycle approach to construction from planning and offsite construction, through delivering and fitting out a project safely and sustainably with technology as a key enabler, and then working with clients to help manage and maintain buildings efficiently throughout their lifespan. For more see www.johnsiskandson.com