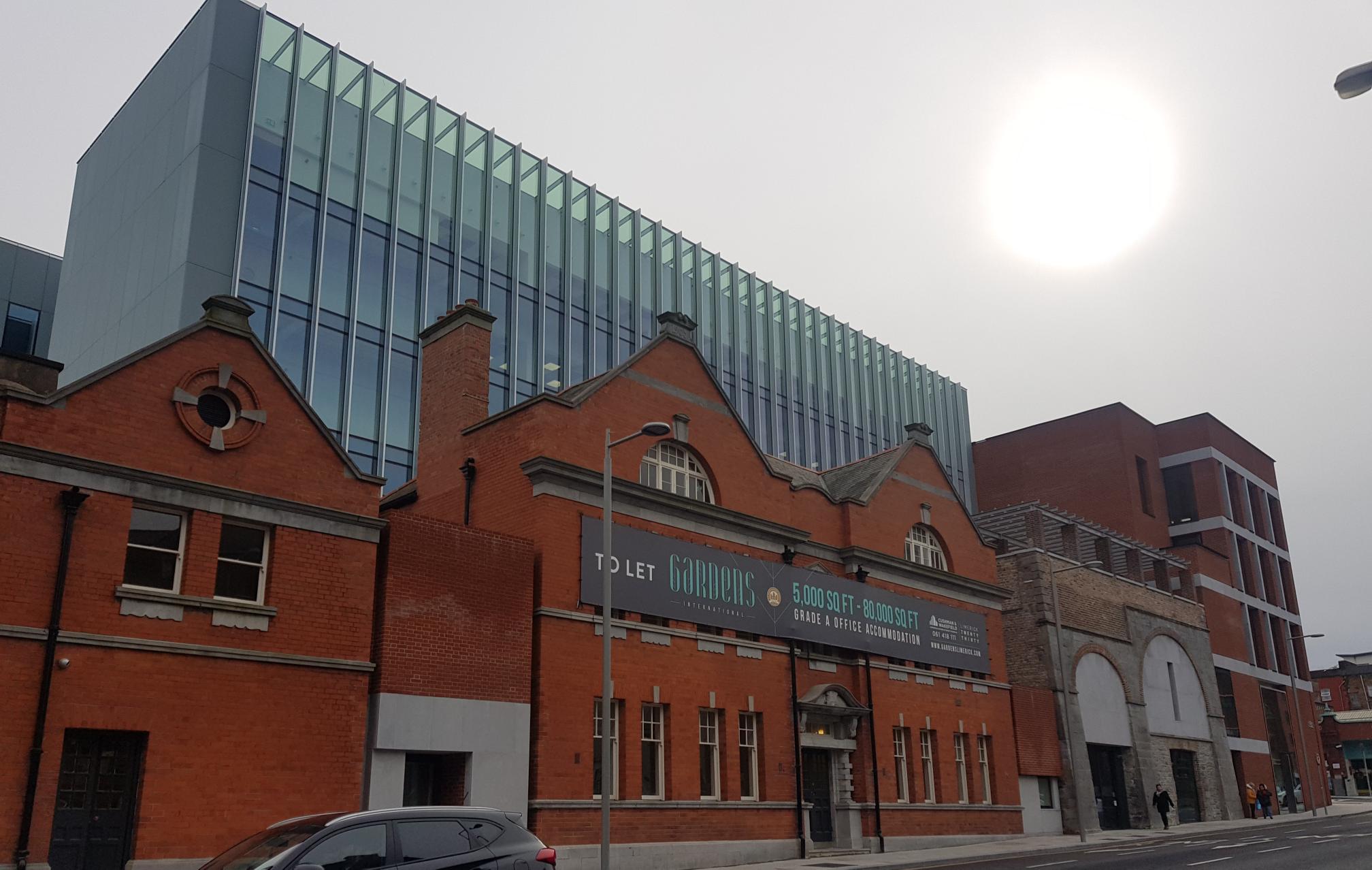 19 Mar

Limerick Twenty Thirty off the mark as world-class Gardens International opens
Successful blend of old and new sees city centre site transformed into LEED Gold building
Next project lined up as planning application for iconic Opera site to be lodged this week
Tuesday, March 19th, 2017:  The doors were officially opened today on the first major build project in the biggest Irish commercial property development programme undertaken under the auspices of a local authority as Gardens International in Limerick was unveiled.
The 112,000 sq. ft development, which was opened by Michael Noonan, T.D. in the presence of Mayor of the City and County of Limerick James Collins, has been completed to tenant fit-out stage after an 18 month, €17.6million build.  The project has been built to LEED Gold standards, which is among the top international benchmarks for sustainability.
Limerick Twenty Thirty commenced the development in 2017 at the site, which stood half built for almost a decade after work had stalled mid-flight following the economic crash.
The development is a striking example of 'old meets new' as the project mixes the stunning architecture of the early 19th century Roches Hanging Gardens, which included roof-top gardens of exotic fruits; the Mercantile Building; the former General Post Office developed there a century later and a gleaming new build to the rear to form a brilliant architectural blend that sets a new standard for the city and region.
Speaking at the launch, Mayor of the City and County Council James Collins said that the level of ambition shown by going for top international design and build standards is a statement about where Limerick has arrived at today.  "It's a project that is a motif for a new Limerick. We've built the very best because we want to attract the best. It's a build that respectfully and brilliantly merges old and new. It has raised the bar, created a remarkable new structure and standard here in the centre of Limerick. And I want to thank the elected members of Limerick City and County Council who took the leap of faith to originally back the Limerick Twenty Thirty concept to deliver jobs for Limerick through projects such as this development. "
Said Michael Noonan: "This is an important and proud day for Limerick.  As Minister of Finance at the time, I was delighted to give my support to the Limerick Twenty Thirty project. Today validates the commitment and courage shown by Chairman Denis Brosnan, by Limerick City and County Council Chief Executive Conn Murray and others.  They not alone had the ambition and the vision to go for this but today shows they deliver also. The first new tenant comes in here, shortly taking up over 50% of the space and I expect that the remainder will be let within the coming months, bringing new jobs and investment to Limerick."
Said Limerick Twenty Thirty Chairman Denis Brosnan: "We made a commitment to the people of Limerick when we launched Limerick Twenty Thirty in 2016 that we would transform idle and disused sites in the city into world class locations for jobs and investment.  Gardens International today shows that we do what we say. Over half of it is already taken, the remainder is very close to being finalised and we're moving already onto other sites. We've started as we mean to go on so this is an exciting time, a time of opportunity and promise for Limerick Twenty Thirty, for Limerick and the region."
Said Chief Executive of Limerick City and County Council Conn Murray: "Limerick Twenty Thirty was one of a number of ambitious outputs from our Limerick 2030 Economic and Spatial Plan unveiled in 2013.  We identified a number of key deliverables in that, including creating 12,000 jobs over the lifetime of the plan. We've already achieved that in Limerick in the five years since and Limerick Twenty Thirty is about ensuring we continue to build on that."
Looking ahead to next steps in the Limerick Twenty Thirty programme, Mr Murray stated:  "With Gardens now complete and heading fast for full occupancy, we move onto the Opera site. This week Limerick City and County Council will lodge a planning application on behalf of Limerick Twenty Thirty for Opera, which will be the single most important project for this region in decades and includes a number of iconic new buildings, not least the new Revenue building.  The 46,000 sq metre site will, on top of this magnificent development unveiled today, bring Limerick to a new level, enabling it to compete on an international stage like never before."
Said Limerick Twenty Thirty CEO David Conway: "This is a proud moment for our team at Limerick Twenty Thirty. In a short time, we've come along way.  We've committed to, and delivered on, developing a world class office development here at Gardens International. It's a statement about the ambition of this city today and the ambition that Limerick Twenty Thirty is tasked with delivering on."
For more information, go to: http://gardenslimerick.com/