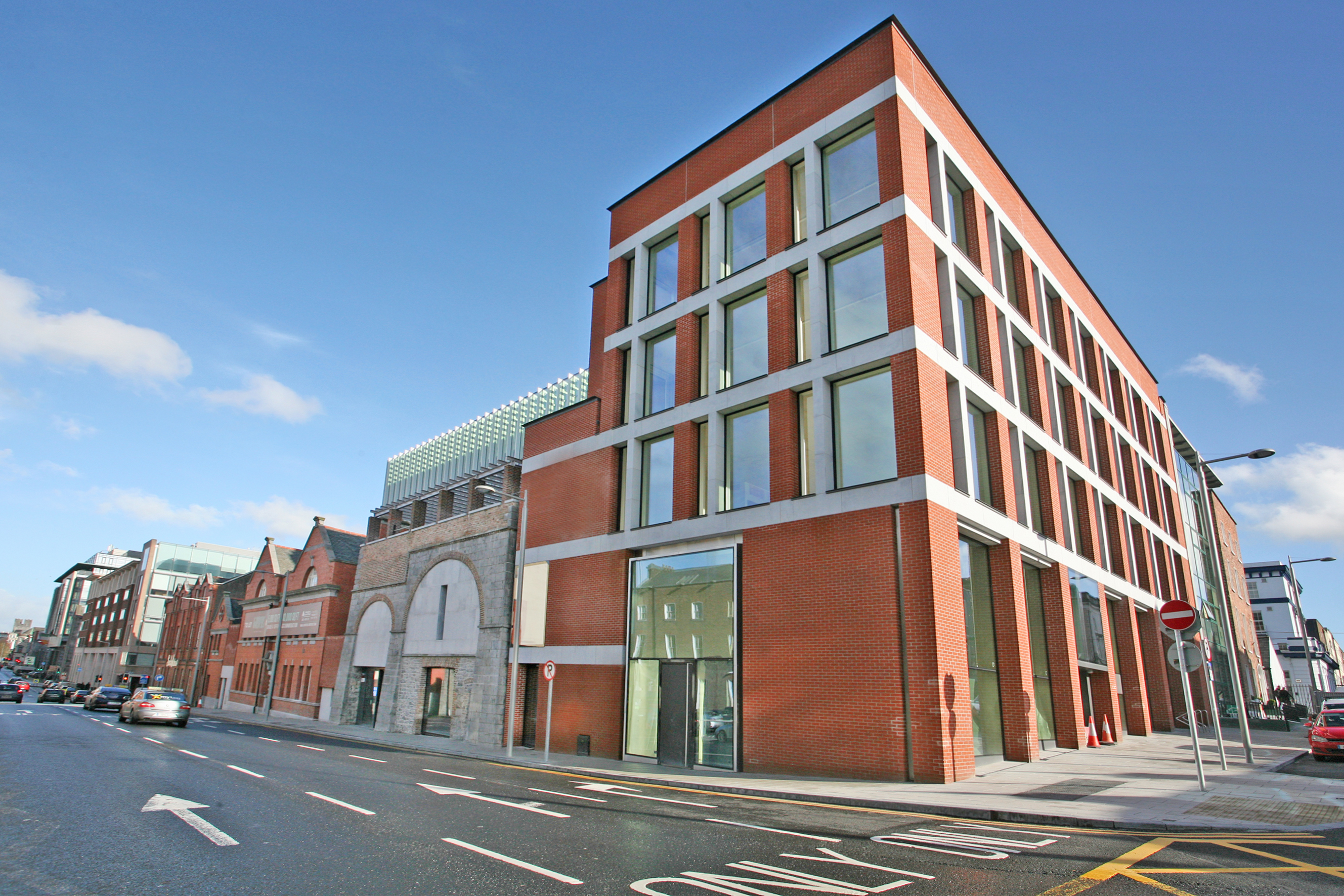 22 May

World-class Limerick Twenty Thirty project, Gardens International, shortlisted for top architectural award
LEED Gold building nominated for 'Workplace' and 'Public Choice' categories in the Royal Institute of the Architects of Ireland awards
Wednesday 22 May 2019:  The world-class standards reached by the first major build project under the Limerick Twenty Thirty programme has been reflected by its nomination for a major national architectural award.
The 112,000 sq. ft Gardens International, which opened its doors in March after an 18month build, has turned eyes in the prestigious Royal Institute of the Architects of Ireland (RIAI) Public Choice awards.
The €17.6million project has been shortlisted for the 'Workplace' and 'Public Choice' categories.  Some 41 others projects have also been shortlisted across a range of awards categories, such as Adaption & Re-Use, Culture or Public Building, International, Learning, Living (Homes), Public Space and Well-Being.
The winners will be selected by way of a public vote, with voters asked to list select their favourite building, place or public space by Friday, May 31st.
Gardens International is the first major build under the Limerick Twenty Thirty programme and is a striking architectural blend of 'old meets new', with the project mixing the stunning architecture of the early 19th century Roches Hanging Gardens, which included roof-top gardens of exotic fruits; the Mercantile Building; the former General Post Office developed there a century later and a gleaming new build to the rear.
Designed by Louise Cotter of Carr Cotter Naessens Architects, Gardens International is a stunning example of their work in designing diverse briefs, scales and locations, from rural houses to urban masterplans. They have achieved an amazing design with Gardens International, bringing all elements of the site into one with a very stylish and quality building.  Together, the Gardens International mix forms a brilliant architectural blend that respects the rich architectural and social heritage of site and combines it with a modern element that turns it with ease to the future.
The project has also been developed to LEED Gold standards – the top international benchmark for sustainability.
Limerick Twenty Thirty CEO David Conway said that the shortlisting of Gardens International for the award is much deserved: "We are delighted that Gardens International have been shortlisted for these prestigious awards.  It's our first major build project and we intended to set a high standard with it and we certainly have done that, as the shortlisting for these awards suggest.
"Gardens International was developed to the absolute highest international design and build standards. We officially opened it last month and the reaction of everyone who has walked through its doors since has been one of awe. It's a world class building and it would be great if the people of Limerick got behind it and voted for it in these awards. It really deserves it."
David Browne, RIAI President said: "We received over 190 high quality award entries this year so our judging panel really had a challenge to narrow this down to a shortlist. The quality and diversity of entries received from across the country demonstrates how adding to the built environment has become a priority in the regions and how architecture is for everyone. We are encouraging everyone to get behind their favourite project, you only get one vote so use it wisely. Voting is available through the RIAI website."
Limerick Twenty Thirty is a special purpose vehicle created by Limerick City and County Council to transform disused, strategic sites in the city and county into economic engine rooms of growth.
The biggest Irish commercial property development programme undertaken under the auspices of a local authority, it commenced and, in addition to the now completed Gardens International and Troy Studios buildings, its portfolio also includes the Opera Site, a 45,170sq m mixed-use scheme currently with a planning application before An Bord Pleanála; the 10 acre Cleeves Riverside Campus that is currently being master-planned and the Mungret Park housing development, which is also currently being master-planned for a first phase 250 unit.
All of the Public Choice projects are available to view on the RIAI website at www.riai.ie.  Voting closes at midnight on Friday, 31st May.
The RIAI Irish Architecture Awards 2019 include the following Award categories:
Workplace and Fit-Out– Supported by Walls to Work Stations
Adaptation and Re-use – Supported by Kingscourt Brick, Kingscourt Country Manor Bricks
Cultural / Public Buildings– Supported by Kilsaran
Learning Environments – Supported by Cabinpac
Wellbeing – Supported by Soprema
Living – Supported by Vandersanden of Kingscourt Country Manor Bricks
International – Supported by Enterprise Ireland
Public Space – Supported by Dulux Trade Ireland
Urban Design / Masterplanning
Research – Supported by Arup Trust
The Future Award – Supported by KBC Business Banking
Innovation – Supported by Kingspan Insulated Panels
Building for All – Universal Design – Supported by CEUD
Sustainability – Supported by Tegral